Explore Our Second Hand Used Appliances in Guelph
How much do used appliances cost?
Getting a new appliance doesn't have to drain your wallet. Our mission is to help you find highest quality used appliances at lower prices. On average, used appliances cost:
| | |
| --- | --- |
| Used Fridges | Price: $399- $799 |
| Used Washers | Price: $340- $649 |
| Used Dryers | Price: $240 - $599 |
| Used Dishwashers | Price: $280 - $699 |
| Used Stoves | Price: $390 - $549 |
| Used Ovens | Price: $790 - $1,500 |
You can find all our available appliances and the detailed prices in our online shop.
Fast and Convenient Services
Customer satisfaction is our priority! We're here to make shopping for appliances as easy as possible. That's why we offer everything from installation and delivery to appliance disposal services in Guelph. No need to worry about hauling away or disconnecting your appliances. Simply call our team and we'll take care of it.
Gently Used Appliances At The Best Price!
Over the many years that we've been in the appliance repair business, we've earned our reputation as Guelph used appliance specialists. We're dedicated to making your life easier with full installation, delivery and disposal services in Guelph. Simply get in touch with our team, and we'll take care of it all.
Committed to quality - We work fast, but we never sacrifice the quality of our work in the process.
Fast and efficient - We know how urgent it is for you to get your new appliance installed. We're at your service 7 days a week, including weekends and holidays.
Certified and insured - Our technicians are fully certified and insured so you know we've got you covered.
Fully trained and experienced - With over 25 years of experience, you can be sure we know appliances, inside and out.
Locally owned business - We're Guelph used appliance experts!
Contact Us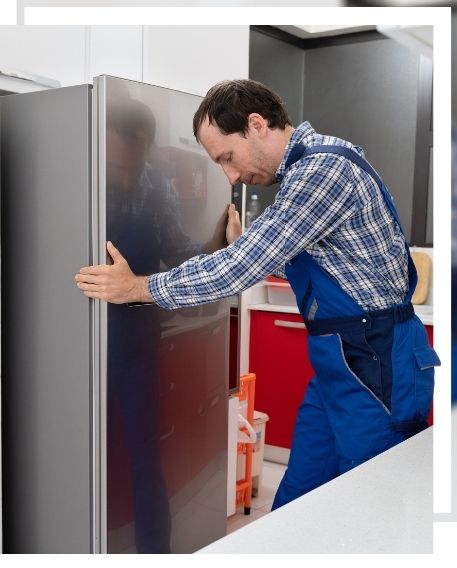 Send Us a Message
To book an installation, disposal, delivery or for any questions, you can visit our warehouse or give us a call and one of our representatives will be in touch with you. 
Address
2501 Steeles Ave W, Unit 2B,
Toronto, ON M3J 2P1
Hours of Operation
Monday to Sunday
7am - 10 pm
Express Appliances is Guelph's best choice!
We ship our used appliances to your door in Guelph, so you can start using them right away! Our affordable & quality used appliances include everything from refrigerators to dishwashers, so you're sure to find the perfect fit for your home. Plus, our friendly customer service team is always here to help you choose the right appliance for your needs. Give us a call today and see how Express Appliances can help you save money on quality appliances!